Omotola Jalade Apologizes After She Was Dragged On Social Media For Doubting Lekki Massacre
Following the Lekki Massacre incident, Popular Nollywood actress, Omotola Jalade took to Twitter to air her opinion, and unfortunately, it did not go well with Nigerians.
According to the actress's tweet, if truly people died at the Lekki massacre, their families
should speak out and If no one died, then Nigerians should stop the sensationalism.
This comment earned the mother of 4 lots of insults and dragging on social media.
Omotola who took part in the protests, wrote;
"If People died during the Lekki Toll Assault,

let their people speak out please and if there were No deaths,

then enough with the sensationalization because it does not remove from the Crime that happened.

PEACEFUL PROTESTERS WERE ATTACKED.

WHY? BY WHOM ! #EndImpunityinNigeria"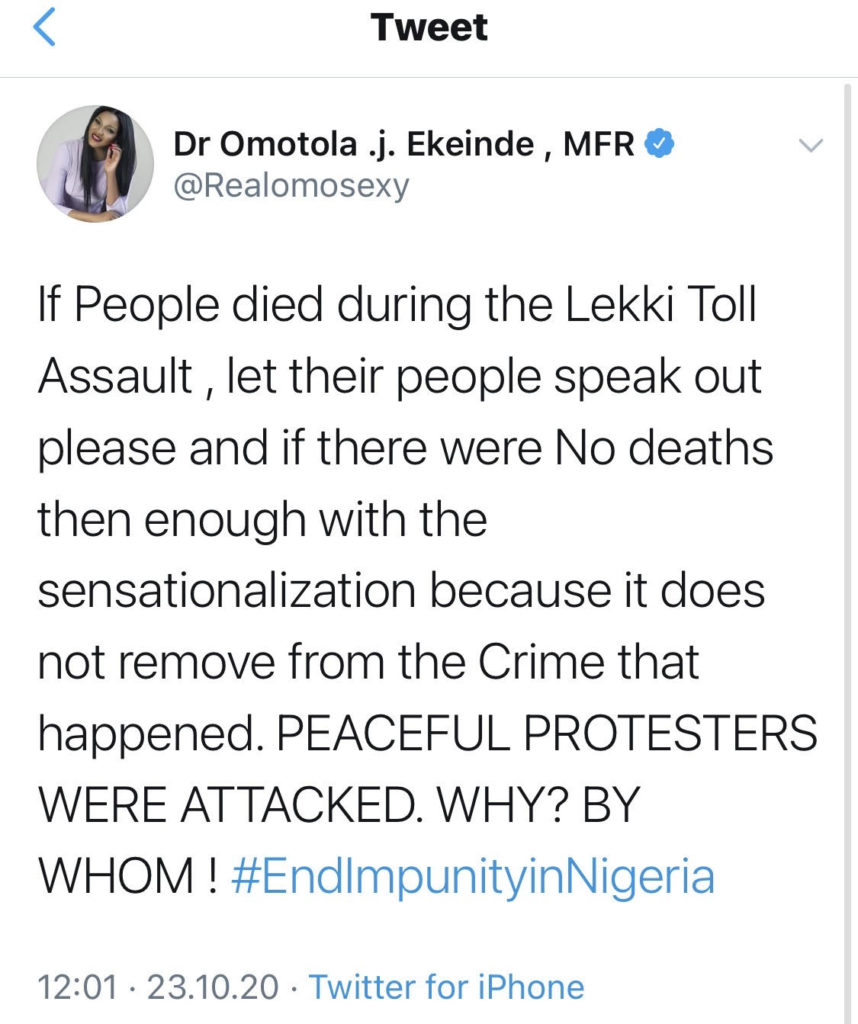 This made her apologize and delete the post immediately.
"I'm deleting that tweet so it's not abused.

Apologies as it's been misunderstood.

Sorry about the use of " if".

Please don't distrust Everyone there are steadfast people.

Know them.

We move #endimpunityinNigeria #Endpolicebrutality #EndBadGoveranceInNigeria" Omotola tweeted
See some reactions from Nigerian's who think her post was an insensitive one;
Read Also; Runtown blasts Nigerians planning to flew from the country
@king_aderichie wrote "So if they were ophans and no one would come out to speak for them they still don't deserve justice ? I'm glad my mom can not be this dumb sha."
@mrpresidennt wrote "Trouble dey sleep wahala go wake am. Who told you all of them have families? Some people will just open their mouth waaaaaaa"
@udeechukwu wrote "Do you think all these things are child's play… didn't you see the dead bodies do you think it's easy for grieving families to speak up. Do you think everyone is as influential as you and can be heard easily …
do you know some peoples family might not be aware till now?"
@cooldan1 wrote "This is so Insensitive go and fix your home first eye service BS"
@princessonums wrote "Omotola!!!??????? What if their families are still looking for them!! Bodies were taken by the Army!!!!!! You for no just talk "
@chimmy_afiana wrote "It's obvious that Omotola has been paid. It's such a disgrace that you of all people could tweet such rubbish..cavisaservice..Omotola always trying to sound intelligent but falls short every single time this is insensitive and tactless"
@fazzy_pizzle wrote "I'm highly disappointed in Omotola ,I expected more I thought she had sense"