"A married man who washes dishes is controlled by his wife" – Man spills
As it entitles everyone to their opinions and views, a man has spilled his opinion concerning "married men doing dishes" on his Facebook page.
The man, identified as Gentle Smile, recently shared a controversial statement about the marriage that has got tongues wagging from social media users.
READ ALSO: Married man rescued after attempting to commit suicide in Ogun river (photos)
His post on the popular Facebook group, Rant HQ, reads:
"For a married man to wash plate for his wife, just know that his wife is controlling him simple".
READ ALSO: VIDEO: Lady accused of sleeping with married man says video was staged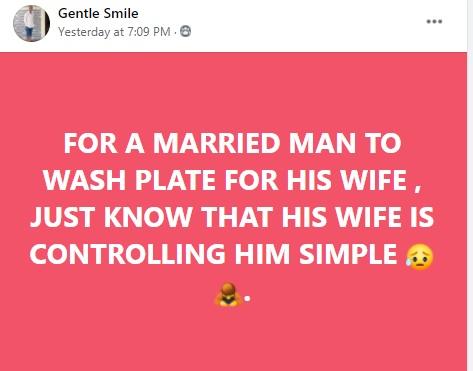 READ ALSO: A Nigerian Married Man Kills Himself As Side Chick Broke Up With Him (Video)
HERE are some reactions;
Alero wrote; I honestly don't like men with this mentality…. A little help goes a long way. Na wife go cook, clean house, take care of children, still wash clothes Haan Wettin happen.
General wrote; Na lie ooo…. where una dey see all this mumu mentality sef??
Domingo wrote; I don't like this. People go just come online open mouth like King Kong after Godzilla bites em ynash